Home
Authors
Posts by admin
Original Foods Baking Co. has launched the latest addition to its wholesale food service offer with a new range of 100 percent dairy and egg free muffins. The new sweet treats are perfect for vegans, or people with food intolerances, and are available in three sizes.
1. Orange Ginger and Fig Granola Image Source: Orange Ginger and Fig Granola Looking for a change from your oats or smoothie for breakfast? Have a bowl of this Orange Ginger and Fig Granola from Tiana Haines with some fruit and...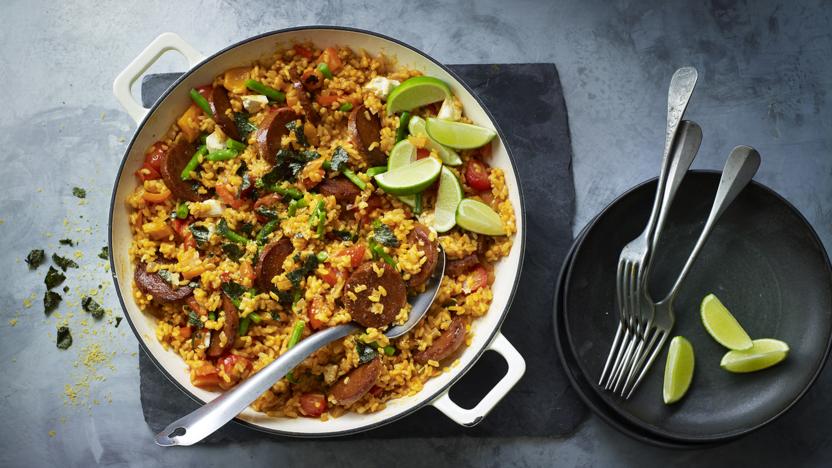 Ingredients For the seitan chorizo sausage 230g/8oz vital wheat gluten30g/1oz nutritional yeast flakes2 tbsp plain flour1 tbsp smoked paprika2 tbsp paprika1 tsp dried oregano½ tsp ground fennel seeds1 garlic clove, finely chopped1 tsp saltpinch cayenne pepper280ml/9½fl oz vegetable stock100ml/3½fl oz dry sherry2 tbsp soy sauce1 tbsp tomato purée2 tbsp olive oil
Noodles are the ultimate comfort food. It's also quite low in oil / saturated fats for those watching that intake. Made by @cookingforpeanuts: Ingredients:1 8-oz block of extra firm tofu (pressed & dry)4oz lo mein noodles Sauce:3 tbsp tamari / soy sauce2...
by @healthyfrenchwife: Base:⠀1/2 cup of almonds1/2 cup of hazelnuts1 cup of pitted dates1 tbsp of water1 tbsp of cacao.Cheesecake Layer:1 cup of soaked cashews 4-6 hours6 tbsp of raw cacao powder1 tsp of vanilla powder1/2 cup of rice malt syrup1/3 cup of melted coconut oil1/3...
By @raw.sunshine Biscuit Ingredients:2 Cups All Purpose Flour1 Cup Cashew Milk1 tbsp Lemon Juice1 tbsp Baking Powder1/2 tsp Baking SodaDash of Himalayan Sea salt1 tsp Rosemary1 tsp Thyme1/2 tsp Sage4 tbsp COLD Nondairy Butter + 2 Tablespoons more for brushing the tops of the Biscuits
Such a creative comfort food recipe by @foodietakesflight:—INGREDIENTS:2 small heads cauliflower (makes around 3 1/2 cups of florets)1 tbsp soy sauce + 1 tsp cornstarch, mixed__3 tbsp oil 4 cloves garlic, minced1/4 cup sliced onion leeks1 red bell pepper, sliced 1 green bell pepper, sliced1/4 cup peanuts, optionalDried chili, optional1/4...
This is a vegan, #nutfree and super easy recipe that gives "peanut flavor" vibes without peanuts - made by @plantbasedjane. It uses sunflower butter which you can buy (@traderjoes has an AMAZING one) or make yourself by just blending roasted sunflower seeds! Recipe (for 2)1 can of chickpeas
🌶 🍅 Plantbased and delicious. Served with a simple tomato, cucumber salad. Made by me! Ingredients:3 whole peppers, sliced in half Filling:3 garlic cloves1/2 onion1 can fire-roasted tomatoes1/2 cup squash, sliced1/2 cup sliced mushrooms1 cup quinoa2 cup veggie broth/ water if...
🍛 by @veggienie. Ingredients:1 tablespoon vegetable oil1 large onion, diced2 cloves garlic, mincedginger, peeled and grated, 1 inch (2 1/2 cm) piece1 jalapeño, or green chile, seeded and sliced2 tablespoons garam masala1 teaspoon turmeric1 teaspoon salt1 teaspoon black pepper2 cups fresh tomato, diced15 oz chickpeas, drained and...