Breakfast is by far my favorite meal of the day. After fasting through the night, there's nothing better than to wake up and enjoy a delicious breakfast.
On weekdays, I rarely have the luxury to indulge in a slow meal as I've got to rush to school drop-offs and work. But on weekends, breakfast is sacred in our house. Slowing down and enjoying a delicious home-cooked breakfast is a privilege I encourage you to make time for on weekends.
And what better way to indulge than cooking up a batch of these easy vegan pancakes?
Pancakes have a special place in our hearts. They take us back to those happy days in our childhood when our Mom or Dad would pile them up on our plate. Pure joy.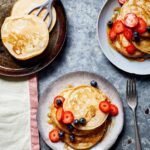 Easy Vegan Pancakes
The easiest vegan pancakes you'll ever make? Yup! We've got the recipe for you right here! Let the plant-powered brunching begin.Course Breakfast Cuisine American Total Time 15 minutes Servings 4 Author Brett Cobley
Ingredients
1 cup of flour
1 teaspoon of baking powder
1 cup of plant-based milk
2 tablespoons of maple syrup
1 teaspoon of vanilla extract
Pinch of salt
Oil for frying
Instructions
Combine the flour and baking powder in a large bowl, then add all the remaining ingredients, except the oil, and mix together with a whisk.
You aren't trying to whisk the mixture or add bubbles here, but a whisk just works best to make the batter nice and smooth.
Use a brush to apply a thin layer oil to a frying pan set over low heat, then add 1 tablespoon of the set over a low heat, then add 1 tablespoon of the batter mixture to the pan—keeping it flat and level to make a neat circular pancake.
Cook for a little over 30 seconds until the pancake is firm enough to slide when you shake the pan, then flip it over and cook for another 30 seconds until both sides are crispy and golden.
Keep the pancake somewhere warm while you make the others. Cook the rest of the batter in the same way—you should have between 12 and 16 pancakes.
Serve with your preferred toppings—my favorite way to serve these beauties is with coconut cream and fresh strawberries.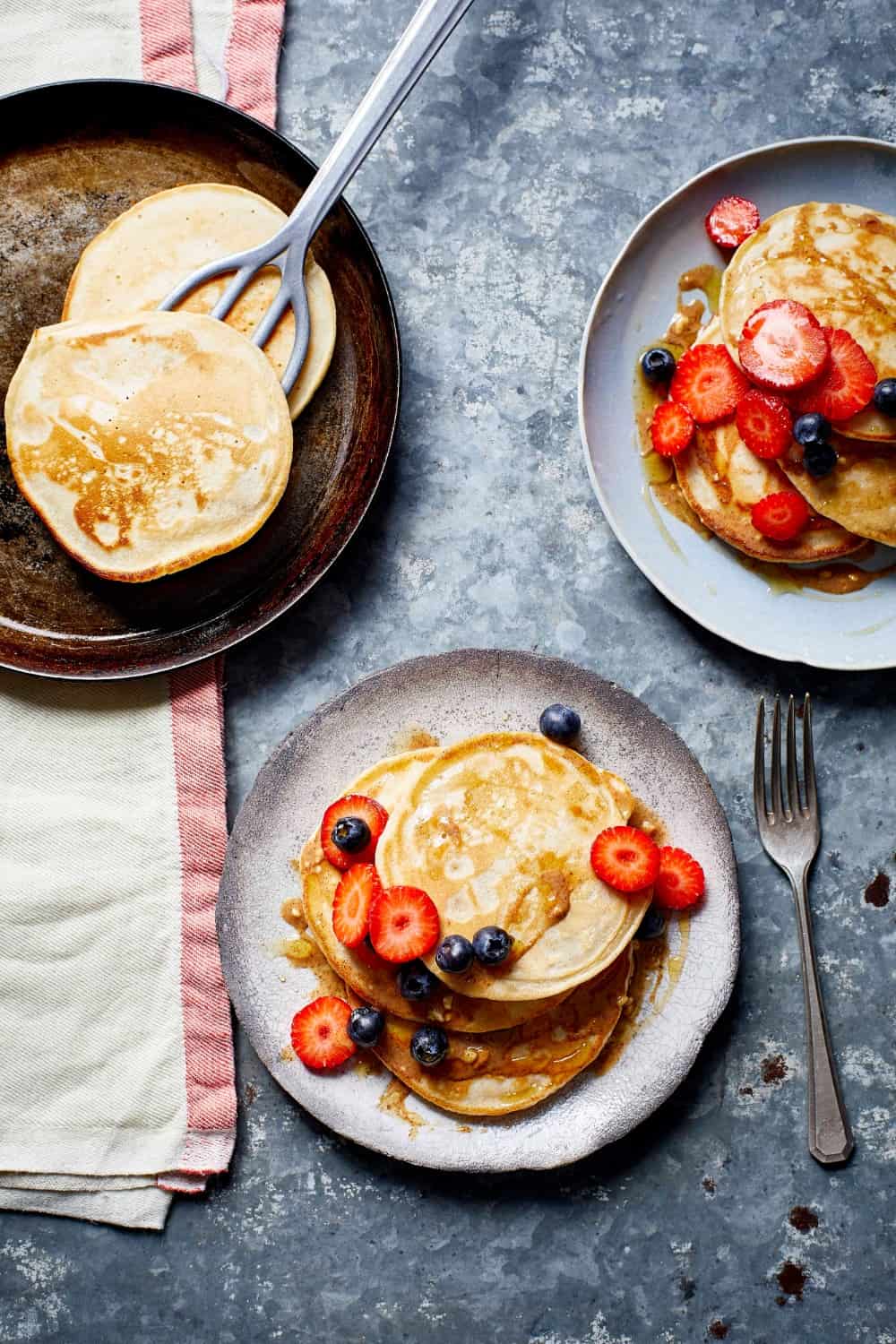 Easy Does It!
These incredibly easy vegan pancakes are so good and simple they will become another staple in your household. Only a couple of ingredients and a pan and you're set! You can use endless toppings and drizzle them (or soak them!) with maple syrup. Use the fruits that are in season and therefore on sale and, if you're feeling fancy, you can sprinkle some walnuts or add some blueberries to the batter.
Needless to say, my kids go wild for these! Without even trying, it became our Sunday morning ritual, and we are so happy it did. If I'm honest, we make a batch large enough for the kids to snack on later on or store them in the fridge and heat them up the next morning. Who has the time or motivation to make breakfast on Monday mornings? Lifesaver!
Pancakes for breakfast just make life, well…better! So why not committing to making these once a week and share them with your loved ones. No tricky ingredients or cooking skills needed! So…and enjoy!