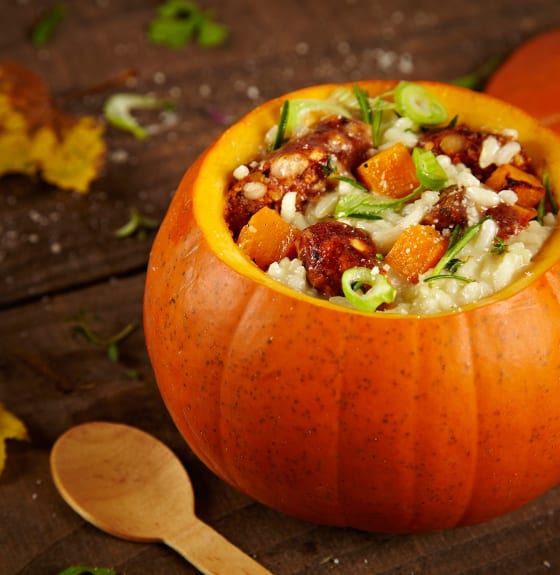 A warming, hearty dish, packed with flavour. Delicious chunks of pumpkin nestled amongst tender risotto rice, teamed up with our lightly spiced vegan wholefood sausages and infused with rosemary and thyme. A real autumnal treat!
INGREDIENTS
4 Cauldron Vegan Wholefood Sausages
1 tbsp vegetable oil, plus a drizzle for the pumpkin
½ small pumpkin or butternut squash, peeled and diced into approximately 1cm cubes
1 onion, diced
1 clove garlic, crushed
1/2 tsp ground cumin
A few sprigs of thyme and rosemary
200g risotto rice
1 litre hot vegetable stock
2 spring onions, sliced
50g vegan parmesan, grated (or vegetarian cheese depending on preference)
2 tbsp chopped parsley or coriander, to serve
METHOD
Preheat oven to 200°C and cook the Cauldron Vegan Wholefood Sausagesas per pack instructions and roast the pumpkin on a baking tray with a splash of vegetable oil for approximately 15 minutes.
Meanwhile, heat the oil in a pan and cook the onion for 5 minutes or until softened. Stir in the garlic, cumin and herbs and cook for 2-3 minutes.
Stir in the rice and cook for 2-3 minutes until the rice is coated in the spices.
Increase the heat, add a cupful of the stock and stir until the liquid has been absorbed. Repeat with the remaining stock until the rice is cooked and all the stock is used, adding more or less as necessary. Stir in the pumpkin or squash, spring onions and ¾ of the parmesan and cook for a further 1-2 minutes. Season to taste with salt and black pepper.
Serve the Cauldron Vegan Wholefood Sausages sliced on top of a spoonful of risotto with a sprinkle of the remaining parmesan and parsley.