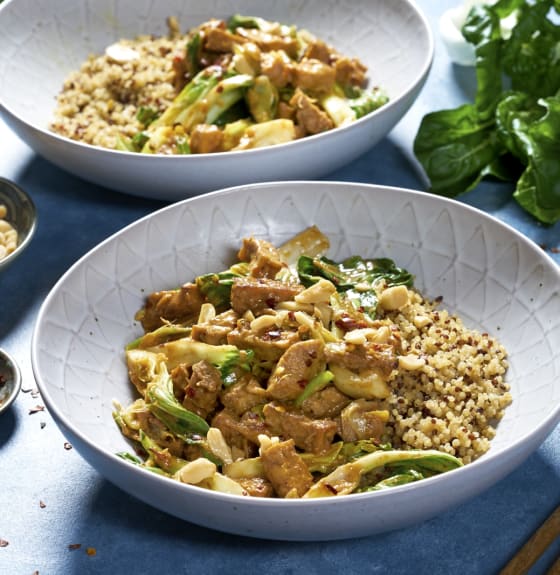 With a rich and creamy peanut sauce, this satay-inspired stir-fry is served over healthy quinoa. Bursting with coconut, sriracha, and ginger, this vegan dish is definitely a crowd pleaser!
INGREDIENTS
1 pack of Cauldron Marinated Tofu
65g smooth natural peanut butter
100 ml coconut milk
2 tbsp lime juice
2 tbsp soy sauce
1 tbsp sesame oil
1 tbsp Sriracha hot sauce
2 tsp brown sugar
2 garlic cloves, crushed
1 tbsp freshly grated root ginger
1/4 tsp chilli flakes
1 tbsp vegetable oil
2 spring onions, finely sliced
4 baby pak choi, quartered
30g peanuts, roughly chopped
1 pack of pre-cooked quinoa, to serve
METHOD
Whisk together the peanut butter, coconut milk, lime juice, soy sauce, sesame oil, Sriracha, brown sugar, garlic, ginger and half of the chilli flakes, then set aside.
Heat the oil in wok or large skillet and set over a high heat. Cook the Cauldron Marinated Tofu for 5-6 minutes or until golden brown and crisp all over. Stir in the spring onions and pak choi and cook for 1-2 minutes, or until the pak choi starts to soften.
Stir in the peanut satay sauce, then mix everything together. Cook for 1-2 minutes.
Serve with the quinoa and garnish with the peanuts and remaining chilli flakes.